Fall News from D.O.P. Cariñena
Welcome to the fall edition of the Cariñena newsletter. This issue features some news about upcoming events, including an update on harvest; what you can expect from the re-launch of our website, Wine Region to Watch; highlights from International Garnacha Day; a regional favorite dessert recipe for Peaches and Red Wine; information on the next stop of the Garnacha Road Show Tour; and Cariñena in the News. And…we're on Instagram now, so be sure to connect with us there for exclusive images and content weekly!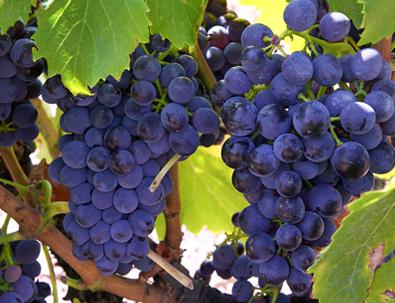 2018 Harvest Report
Milder temperatures and late summer rains led to a late harvest for 2018. Growers started harvesting three weeks later than usual, picking white grapes in the middle of September and red grapes at the end of the month. The results have been excellent with high-quality grapes and a 15% increase in yield. A longer hang time on the vine means that the grapes have excellent fruit concentration, mature tannins, and soft acidity. During fermentation, extraction proceeded without any problems and the musts are showing very fresh acidity. Overall, 2018 was an excellent harvest, and we look forward to tasting the results!
---
New Website Alert! 
Wine Region to Watch is Relaunching – Phase One is Complete
D.O.P Cariñena is in the process of launching a new website, and Phase One is complete! With the refresh, we will be enhancing our regional and winery sections, news and events, and we're adding more detailed maps, videos, recipes and travel content. The new website will include everything you need to know about the region now – with previews on plans for the future.
---
Highlights from International Grenache (Garnacha) Day!
On September 21, wine lovers across the globe celebrated International Grenache (Garnacha) Day, and for D.O.P. Cariñena, that meant celebrating everything Garnacha. The region started September with a month-long virtual wine tasting, in conjunction with Wine Studio, featuring James Beard award-winning writer Lyn Farmer. Wine writers and influencers tasted through a range of wines from Bodegas Paniza, Bodegas San Valero and Grandes Vinos, sharing their notes and reactions in real time. The region also developed a video in partnership with Wine Enthusiast, all about the Garnacha grape: 
view it here.
---
Global Garnacha Insights: SOMM Journal on the Varietal's "Cinderella Story"
The August issue of SOMM Journal included a feature on the Global Garnacha Summit. "A Cinderella Story" provided insights from the experience, written by magazine contributors and event attendees Jonathan Cristaldi and Deborah Parker Wong. 
Read the full article here
with their tasting reports and top picks.
---
Regionally Inspired Recipe:
Melocotones al vino Tinto – Peaches in Red Wine
Peaches in red wine is a truly Aragonese recipe; the northeast of Spain region is known for its wines (after all it's the home of D.O.P. Cariñena) as well as 
peaches.
Served as an afternoon snack, dessert or festive food, you're sure to come across it in Aragón. Even without Aragón's delicious peaches, this is a simple recipe for red wine lovers. The secret is to macerate the peaches overnight with spices, a little sugar and a good red wine-Garnacha from Cariñena. Find the recipe 
here.
---
Garnacha Road Show: 2018 Dates to Know
We just finished our fifth and final stop on the Garnacha Road Show Tour 2018 at SommCon San Diego on November 16. This event is designed with trade in mind. Earlier this summer, we started the series with two other important industry events. Market activations included SommCon in Washington, DC July 22-24, and ECRM in Anaheim, CA, August 26-29. We also participated in two high-profile consumer events, Great Match San Antonio, TX and Great Match Los Angeles, CA. All events were very well received. 
Read more
for some highlights from these experiences.